Your Level-Up Starts Here!
In our professionally crafted Master's program that was built to give you the skills that will change your dog training and your dog's life. Learn how to train faster, smarter and more efficiently and to draw out the absolute best in any dog. Stop waiting on sidelines. Let's get to it!
Watch the video below to get a glimpse of what it offers!
New Age of Dog Training
Traditional dog training is costing you more than your dog's performance. Our evolutionary approach is designed to maximize your skills and capitalize with faster results costing less energy! Pet dog, working dog, sports or hobby dog, our philosophy, proprietary techniques and teachings will teach you to elevate any dog to their full potential.

3 years of production
in 1 program.
We spent 3 years to professionally produce our MVP program featuring +250 hours of video lessons, demos, insight and instructions. All videos are captured with pro cameras and have English subtitles, infographics, and voiceovers. 
Action packed curriculum
A complete learning framework with a refreshing approach and in-depth coverage including insights, demonstrations, discussions, bi-monthly group coaching calls, coaching reviews and personal feedback and exclusive peer and coaching community. The Master View Path covers all aspects of dog training.
What you will achieve
A combination of unique handler skills

Analytical abilities to solve problems

Replicating training results with any dog

Talent management for dogs

Living and working with a dog in harmony

Elevating low-drive dogs to a new level

High-level performances

Full control of dog's drives and energy levels

Long-term vision and comprehension

Access to your own and your dog's full potential

Fine and gross motor skills

Spacial awareness

Growth mindset

Career opportunities

Competitive insights for sports performances 
What to expect
Understand the 'why' and 'how' 

Puppy to full adult training process

Talent scans for handler and dog(s)

Coaching insights

Demonstrations & discussions

Access to 5 Key Pillars of Dog Training

Exclusive and professionally recorded MVP seminar 

Super Slow motion breakdowns

Bi-monthly group coaching calls

Practical assignments 

Coaching reviews and personal feedback

Exclusive MVP content

Private peer community and full support

Talent vs Competence analysis

Problem solving
Receive coaching
from Nino
Get feedback on your training 
Direct video feedback and personal instructions on your training
Receive Nino's video assignments
Live Q&A 
Private MVP Community for peer support
Benefit from Nino's coaching feedback to your classmates
A scientifically 

validated approach.
A labor of love. This modern day approach to dog training was born from a mindful collaboration between Nino and Dr. Debisschop, a distinguished expert in talent assessment.
Leveraging Dr. Debisschop's established scientific approaches for ascessing talent, they crafted a novel technique suited for both dogs and their handlers.
This method has been seamlessly integrated into the STSK9 Master View Path™ framework, providing a unique and advanced training solution that is dedicated to uncovering and nurturing a dog's natural abilities, preserving their integrity and nurturing natural elegance.
Meet our professor
Dr. Marc Debisschop
PhD Mathematician | PhD Drama & Theater | Book Author
Dr. Debisschop, was awarded two scientific validations of his psychometric tool to assess and profile talents. 
Dual certification
Get certified (optional) and validate your skills!
Learn how to create a partnership with your personal dog, develop an outstanding working or demo dog, build your career or, and shine as a professional dog trainer. 
You need a coach, not a trainer.
 Here is Why
"A trainer offers guidance, while a coach influences your whole development journey. They assist in acquiring and utilizing the right skills and in shaping your future vision. My approach fosters analytical thinking, creativity, and a level of confidence unmatched by other dog training programs. Our students stand out in terms of performance and execution!" - Excerpt from the IACP Conference 2022. 
"My dog is older!
Now what?"
Age does not matter.
Build your career.
Create your skillset.  
Matt Folsom (Modern Malinois) refused to apply Grandpa's method and chose our system and dogs (Alrick, Magnus and Alexandra) which led to a massive social media following of more than 6 million people worldwide! 
Having reactivity issues? 
STSK9 is centered on instructing and retraining desired behaviors and responses using skill-based techniques.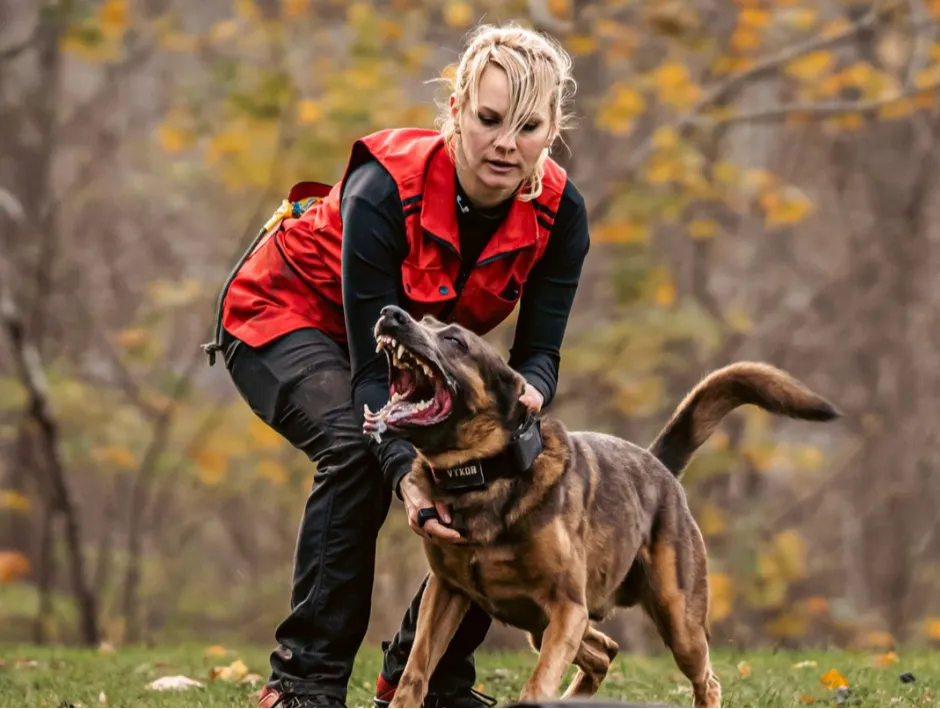 Your coach.
Nino Drowaert. 
Founder and Head Coach of STSK9
Nino spent 20 years with the APD, serving 11 of those years as a K9 handler and the final 5 as the Head Trainer and Supervisor of the K9 Unit. During his tenure, He achieved a high level of success and set the record for the most K9 deployments in the department. His expertise in training dogs and coaching handlers was recognized, culminating in his appointment as the Nationally Certified Head Trainer for Belgium's police department, a role that perfectly matched his skills and accomplishments.
Nino is not only a skilled trainer but also a passionate dog sports enthusiast, having competed in NVBK Belgian Ring, known for being one of the toughest sports in the world. His distinctive training system lays a solid foundation for both the handler and canine to excel in any discipline.
Laura 

Jasinskaite

MVP Graduate and STSK9 Trainer

Laura is the perfect example of what it means to start with zero experience, with her pet Golden Retriever at 3 years old. She had a vision, she wanted the elegant heeling with a prance, an engaged dog, and so much more - she got it all now. She took a chance on herself, put in the work, ignored the doubts and discouragement she received, and kept working her way through the program graduating within only SIX months. Now, she is part of the STSK9 staff as a trainer and coach, here to help others do the same.
Becky Annah 
MVP Graduate and Guest Coach
Becky is a great contributor to the MVP program, not only as support to all students but also with her expertise on how to live with a working dog inside your home, dog behavior, aggression, reactivity, and rehabilitation and prevention of dogs with behavioral problems. Becky also adds to the assignments in order to challenge our students for better results and progress.
Emanuela Bruschi
Emanuela is the face of our Skills-Based Tools-Free method.
Nino was instantly inspired by her remarkable results and mesmerized by her adaptation of the STSK9 methods in a positive way to suit herself, her dogs, and her country's laws, Italy. 
The Positive Only Class is part of your Master View Path Program.
 Special Guest
Christian Fliehser
Multiple world titles in protection sports and an all-time record

of 398/400 Mondioring!
Christian shares unique insights on his training and competition routines and how it has proven to be successful year after year. Become a student and start training like a champion today! Exclusive MVP content
Lack of experience doesn't matter.
It Actually Works In Your Favor
"Does this program help with trials & competition?"
STSK9's training methods are designed to be versatile, allowing application across different areas of dog training.
This flexibility lets you adapt the techniques to your specific objectives, whether it's for dog sports, demo dogs, companion dogs, personal protection, or freestyle routines. A testament to this adaptability is our student Blair, who achieved the title of PSA National Vice Champion using our methods!
Click the

+

below for  answers to commonly asked questions 
Don't see yours here. Reach out to us at [email protected]  
Who's the MVP program for?
Does my dog have to be a Malinois or a working breed?
How does online training work?
Can I share my login to the program?
When and how can I start?
Does my dog have to be a puppy?
What does the syllabus include?
Do you offer installments?
What are the requirements for the Dual Certification?